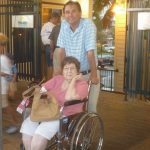 I may have mentioned in past stories about the heroics of a great woman that left many impressions and taught many lessons; however, I do not believe I've told you the story of my grandmother, Pearl Nadine Summers. The very woman that participated in raising me and instilling the lessons that I use to this day and to whom my rental portfolio is named after. This was a woman that grew up as an "okie" in the great dust bowl, followed her husband dutifully around the country as he trained to be in a B-24 Bomber over Germany in WW2, and stood steadfastly as that same man, Winston, choose photography as a profession in the late 40's. To me she was 'Grandmother' that taught me the value within ourselves, others, and with regards to business -a dollar, real estate, and that you want to be the bank.
Nadine grew up as a the only child and daughter of Otis & Pearl Kent. They ran a general store and raised cattle in Seminole County of Oklahoma. They were good people that lost it all as the Dust Bowl raged and Kent extended credit to all the local's. One of my greatest memories is of my grandmother telling me a story about doing her chores which included washing cloths with a washboard. Creek-side. Looking up and seeing teenager's laugh at her as they past by in a convertible Cadillac Not sure of the year -but excuse me if I'm slightly off. Can you imagine? Grandmother Nadine told me it was at that very moment that she knew… -she would not grow up a casualty of her circumstances and would rise above.
Her husband. Winston grew up and attended the same one room school house with Nadine. They met young (ages 6 or 7) and knew they were destined for one another. Winston grew up in a roughneck family, that's oil wranglers for those that don't know, with his father commanding Seminole and all the surrounding counties as the boss back in the 20's. 6'6 with a hand that can grip a basketball, Alvin had a commanding presence that led him to V.P of Human Relations for Sun Oil until the late 70's when it was decided that someone with only an 8th grade education was not worthy of such a position. Winston grew up in a more well off with some power -but modestly never used it to his advantage.
But none the less.., Nadine took up bookkeeping and ran the books of a small company out West (when they literally migrated from the Dust Bowl) and at many officer's clubs as she followed Winston for his Air Force training and/or potential death over the airways of Europe. Nadine did this all over the Northwest following Granddad from Texas to Missouri, Idaho, Colorado and so forth. Two things she learned from her parents. Take pride in what you do and do it well. To this day it was believed Nadine played a part in delaying granddads venture into WW2. While he did do 20+ missions over Germany with many a harrowing story, had he not been delayed for deployment till 1944, he could of very well not made it home- and thus the death of my family chain.
Monopoly money you say? I was but a kid in the 70's, parents divorced, and I spent my summers with my grandparents. The cusp of their heyday as both a couple and career. Nadine and Winston worked 7 days a week as they did since the 50's raising two kids, my mother and aunt -Hope & Faith. Many of those years in a trailer while they scraped together a reputation and resulting cash flow stream. Other then re-investing in themselves…, my grandmother only invested in CD's. A product of the Great Depression.
I came along as they were hitting there stride. The photography studio, Winston's, in Bartlesville, OK had achieved notoriety and not only did they do every middle school and high school dance & prom, but they were on there way to generational weddings. Booked solid two years in advance. Yes I'm proud -they worked harder then I've ever had to do and gave me opportunity to advance. That's all they wanted. As every generation did -to further the next to a better life then the one before. I witnessed blood, sweat, and sacrifice day in and day out.
Economically, 1976 sticks out. My grandparents got word the Kodak film would go up over 100% in price overnight (due to the silver within the product) and that perhaps over the next 6-7 months it could go up 500% plus. In fact it did. For them they kept their family home for stability, didn't refinance, and sold a prize possession. a 1973 Chevrolet Corvette baltic blue with a license tag -Winston. You see film keeps if kept frozen -literally forever. Care to know how much film they bought for pennies on the dollar? LOL Granddad had a near fatal heart attack in 1991 and decided to sell. They were still still using that film bought in the 70's. One could do an essay that perhaps it wasn't the smartest use of funds; however, with silver and film escalating at 500% appreciation, the only other dead solid investment back then were Certificates of Deposit. In a way, one could look at it from a real estate perspective and say that all that film was like a paid off rental. I still remember grandmother uttering during 3-5 day rounds of monopoly that she should of bought more 20-30 year CD's paying 15-18% interest in the early 80's.
There were two things Grandmother instilled in me growing up as a child, other then Winston & Nadine calling me out for peeing on the toilet seat at the age of 7. Buy Real Estate -and as we played many a countless hours of Monopoly it was to be the bank. She often said if she had it to do over.., she'd have a liquor store. No advertising needed. Just open and they'd come. Not sure if she, and certainly not I, realized but there was a day. Maybe I was 11 or 12 but we were playing Monopoly and she was losing. I asked permission to take over banking authority and extend a loan to keep her afloat. I'm sure she knew what was going on if not for mere entertainment to extend the fun but for me it was a fundamental lesson.
Fast-forward. I'd graduated from college. Granddad had a heart attack a month later probably from stress, heredity, and still working 7 days a week. When I found my first 'coat & tie' job, and after buying my first home, I went scouting for a new investment property acquisition. Having grown up in a family that moved a lot and bought fixer uppers in old historic area's I knew that I wanted to buy my first rental property. Nadine asked how it was going. I said not well. I'd find duplex's for $60-80k but I'd loose out going under contract. One day I was in AWE. I'd found a 4-plex for $128k that included an extra lot. Didn't think I could afford and Grandmother said what would it take to get you that place and do the numbers work? Check out that first real estate investment at Front end of a 1031 tax exchange.
That was it. Grandmother gave me a 2nd on that first investment purchase that covered the down payment (behind the 1st bank loan) and rehab funds. We were off to the races. I paid her every month on the dot. From that day forward, I continuously had at least one loan outstanding whether it be in my rental operations or hard-money lending operation. In fact, to this day those loans still exist within the next generation. Grandmother (Pearl) and I got pretty deep at times and I remember the day my loans extended over a million dollars. I said grandmother are you sure? Her reply? Scott (my middle name as it's an old family tradition) -you are the only one, family (no offense mom!) or friends whoever has paid us as agreed, on time, monthly, and in full as we agreed to. I have full faith in you! And then she said with a wink in her eye.., I knew the day I let you be the bank in Monopoly and how you handled it that I had something special. This meant alot as I'd made my mistakes in life and definitely gave my grandparents pause to ever trust me with something as important as money and is why my rental company bears my grandmothers name.
What I had learned over the decades from my grandmother is what has created whom I am today. Proper nurturing. Instilling morals and integrity. Teaching one to take 'off the blinders' and think outside the box. Giving one the tools and opportunities to reach out -yet challenge when one strays. That one's handshake is their word. If one were to look at a dollar bill there are so many meanings that underlay the foundation of capitalism. Full Faith & Trust -otherwise it's just monopoly money…