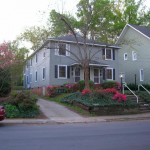 It was the February of 95′ and I was circling a neighborhood I had identified as an above average appreciation rate due to its gentrification. Here I was looking at a duplex listed for $68k and I had thought it was all I could afford… I had my neighbor with me and we circled the block -there she was a 2 story four plex with a for sale sign out front… Ohhhh, I thought as I called and discovered it was listed for $129,900 including the vacant lot next door…. I thought there's no way that I could afford it…., but pressed on.
We had scheduled a walk through over the next few days…. I had discovered it had separate electrical, gas, and water for all 4 units. New roof, double insulated windows, and siding too… they were all 2/1's with hardwoods throughout. I needed to add central air to 3 units, a bit of landscaping and paint one unit. Two were empty and two were occupied at @$285 & $325/mo by those that qualified as my target market -a creative loafer.
The property hit all my parameters of a good purchase and there it had languished on MLS for some 5 months…. i felt I could rent it out quickly to my target market at $385/mo and raise existing tenants to $365/mo with $5k in improvements. I had made an offer of $105k for the 4-plex without the lot as I had no need for it and was trying to get that which I could derive income from at the lowest possible price. The out of state owners agent came back and stated it was all or nothing and that the owner felt the lot was of no value. Ok, then. We settled on $112.5k for the 4-plex and lot with one caveat. I would buy the lot for $1 (yes, I said one dollar) and the 4-plex for the remainder on a separate contract.
So, I bought my 4-plex with lot and fixed it up…. it's been a low maintenance property ever since. I don't remember the exact terms of the loan on the purchase but remember that I got a bit stiffed (upon later reflection) cause I got a brokered loan at 11.25% on a 30yr fixed loan when prevailing rates on non-owner occs were @9%; however, I'll note that I did not allow this to kill the deal. I refied a year later. Cash flow at the beginning was tight with that 11.25% first and a 2nd from family that covered my down payment and fixup costs -back then banks would allow a second for above purchase price.
So my no money down deal cash flowed at @$200/mo. Now that is a tight deal on a four plex folks!!! I will say I had conviction in my purchase and the neighborhood -plaza midwood.
Neighbors had accosted me two days prior to purchase as I was planting bushes in the front yard to inquire on my intentions as the place had not made them happy in the past. Normally I would advise you not to work on a property prior to purchase -but I was green at the time being that it was my 2nd rental and I was overly excited to let the games begin. The neighbors had advised me that parties came and went from this place and they weren't going to put up with it any more. I had advised them if they had a problem -I had a problem. And that I would only move people in that I would want as a neighbor myself. Putting my words into action helped me purchase another 11 rentals within two blocks due to the reputation of properly upfitting and renting multifamilies in a predominately escalating owner occupied neighborhood. To give you an idea, I had a neighbor 2 years later call me up. He stated he had the 5 plex next door to him and the duplex another door down under contract. He stated he was tired of the slumlords running them and couldn't handle the riff-raff anymore. He would assign the contracts to me for no fee if I agreed to run them the way I had my 4 plex and if we carved out a small piece of land in the back so that when he put up a wood fence he could include a large tree in the back corner. Not only was it a great deal, its another story I'll share another time. My point. Networking and following through with your commitments will only lead to future opportunity. For what its worth, my neighbor next to my 5 plex still hasn't put that fence up more than a decade later….
So I diverge….
hmmm, That four plex now has a PITI payment of @$1,410 with monthly rents of $2,445/month… Not to bad huh? especially since I've extracted some $60k to use on another real estate investment and the existing loan is a 30 year fixed at 6.25%. The downside of that? I still have 25 years to go on that loan versus the fact that it could be 15 years if I still maintained the original loan….
So where is the 1031??? Ok, it came with the lot. Three years after I purchased the place I was approached to sell my dollar lot for $35k (now this was over a decade ago as today its worth $100k as a lot). So I signed the contract. I sold that unencumbered lot for $35k and 1031'd it into Big Blue. That's the 2 story Victorian duplex 4 houses down that I talk about in: Back End of a 1031 real estate exchange
It's a good read I'd highly recommend. 🙂
Do you see what I did in all of this? I didn't really give specifics but hit the highlights. I bought a 4plex and a lot for $112.5k with $5k in improvements all on borrowed money. I later extracted another 60k out of the four plex to invest in more income producing property. My PITI ($1,410/mo) represents only 57.7% of the rents ($2,445/mo). Not to mention that I extracted another $35k tax deferred money to put into another income producing property by keeping the lot separate and unencumbered from the 4plex's loan. This property has been a low maintenance, low turnover, easy to rent, no utility costing multi-family with still a good $70k+ in equity even in today's market. One that I essentially got into for no money down, hasn't really cost me anything in the duration, pulled $95k out of it over the 1st 10 years of ownership, and I pull $1000/mo in positive cash-flow not factoring in vacancy and maintenance costs…
If you read my posts on various websites (such as www.askthelandlord.com or www.mrlandlord.com) or my articles here, you will know that I advocate real estate as a chess piece in the game of wealth creation. Specifically, rental property as an appreciating asset (over time) that allows you to derive income from and/or leverage into other endeavors -ideally other true assets with the ability to appreciate. Over the long term, making investments like this will create tremendous wealth creation and cash flow.

It may have not occurred overnight, a week or even a year; however, its real, achievable by all, and despite the pullback we've experienced to date is achievable by purchasing right, not over leveraging, and managing investment real estate like a business should be…… To me that's pretty exciting….
Sure I'm investing in real estate in Charlotte, NC…, but anyone can replicate these real estate investments anywhere….