My name is Tyler McCracken and I've been actively investing in residential and commercial real estate in Charlotte, North Carolina since 1994.  I turned my first home into a rental and was off to the races.   I've owned 100+ rental units maxing out with 59 held at one time.   I've wholesaled and performed many rehab to retail deals.
Gray Dog Investments, Inc. is my hard money / private money lending operation with hundreds of loans funded since 2003.  If you are seeking funding send me an email to:  tyler@graydoginvestments(d0t)com.  I'm also an active investor using self-directed IRA's for lending, landlording, and/or the merchandising of property in Charlotte, NC.
Owned, managed,  and renovated single family residential rentals & small multifamily apartments ranging from 5 to 14 units in size.
Performed Rehab to Retail Renovations consisting of additions, full gut, structural, and/or new construction with single family homes priced from $75k to $1.75 million in the Charlotte, North Carolina real estate market.
Wholesaled investment homes.
Funded flippers, wholesalers,  landlords, and rehabbers with their acquisitions and renovations of single family homes, multifamily, and commercial investment properties in Charlotte, North Carolina.
I believe a healthy balance (of different styles) of  investing in real estate is the proper way to create positive cash flow, minimize tax exposures, and create true wealth through the power of compounding.   I view real estate investments (rental property) as Long Term Retirement Packages.  Flipping, Wholesaling, Rehabbing, and Lending with real estate are methods of creating Short Term Cash Flow Generators to fund ones daily lifestyle and future investments whether your investing in Charlotte, North Carolina or anywhere else in the world.
Charlotte Landlord Association since 1994 (since merged into Metrolinareia)
Metrolina Real Estate Investor Association in Charlotte, North Carolina  since 1998  – www.metrolinareia.org
Co-Chair of Charlotte Landlord Subgroup 2010 – 2013
Metrolinareia Board of Directors  2008-2009
Metrolinareia -Treasurer    2008
North Carolina Realtor
Active Contributor to www.mrlandlord.com since 2001
Active Contributor to www.askthelandlord.com since 2008
Operates The Insole Store.com selling the largest selection & best insoles found anywhere
My formal corporate training has been in the world of Factoring (otherwise known as Account Receivable Financing).    I've been employed by Capital Factors, Inc. and the CIT Group.  Having managed unsecured commercial receivables in the $100MM to $350MM range within the apparel, furniture, and textile/yarn industries. It is this experience that provided my basis of financial analysis and the art of an interview -both necessary skills for identifying & acquiring value driven real estate investments and interviewing all parties to the game…
Gray Dog Investments, Inc. was named after our first Merle Great Dane -Norman.  He has since passed away and we are now blessed with Wyndell.
Norman: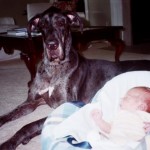 Wyndell: