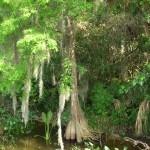 Ever hear the old saying "I've got a bridge for sale…"? Well as an investor, I believe it is critical to pay attention to both your successes and failures (or should we say setbacks).   In the past 5 years, we have witnessed the greatest evaporation of wealth since the Great Depression.   We all have relatives, friends, acquaintances -if not our own first-hand stories of the big bust.  This story pretty much highlights the beginning prick of the bursting bubble in the world of real estate.  Had I focused on this investment of mine that was located at ground zero,  the realities of our crisis may have hit home sooner and the word 'action' would have put a happier memory in my mind.  Believe me -I've got some swamp land available if your interested.
In my article, Paying for an Education, I highlighted the bursting of the real estate bubble in Charlotte, North Carolina in the Fall of 2007; however in retrospect, I had a front row seat to the national epidemic bursting from Lehigh Acres, Florida. Some 40 years ago, my wife's grandfather bought a single family lot in the then bankrupt 'Lehigh Acres PUD' hot off the press from another bubble bust.   This is a lot to this day we now own and one we've paid property taxes on for practically two decades.
At the peak of the bustling real estate markets of 2005, I had realized that the 'We Buy Houses' letters were multiplying from 1-3 per month to 5-10 in my mailbox.  It caught my eye. With cash offers of some $20-30k sight unseen, (as a real estate investor) I knew the value was at least double. That caught my attention! It had sunk in that I could sell that lot (one I've not seen to this day) and perform a tax-deferred 1031 Exchange into a income producing duplex in my own backyard.
After consulting with 2-3 Realtor's via phone, I was pretty confident a $55-60k cash sale could reasonably be obtained & closed within 60 days.   Good Money. Money that could buy at least 2/3rds of the wholesale price of a duplex (in a reasonable location) that generated $1,100 per month in rental income.   That is a no-brainer folks! So in the Spring of 2005, I set out the plan and didn't execute.  Meaning: I did not list the property with a Realtor.   I was in the midst of growing my hard money lending operation and simply did not take the time.   I was to busy after-all.  LOL -to busy to sign and fax a listing contract. Care to guess what that cost me?
I was planning to send in that listing any day as we were headed into the Fall of 2005 when Hurricane Katrina came ripping through the gulf coast.   It is this pause that our Nation took to watch, help, and pray for our fellow Americans hurt by its destruction that burst the bubble in the real estate markets in the United States of America. On a call to my agent 2-3 weeks after-wards, his response was "let's wait another 2-3 weeks to let the (real estate) market pick up some steam -since the hurricane, all movement has come to a standstill".   Two-to-three weeks later,  I was advised activity had slowed drastically, prices had dropped to $35-38k and perhaps we should wait till the busy season (during our traditional winter months).
At that moment, I really didn't think twice about the advice. Our local Charlotte, NC  real estate market was still firing on all cylinders –business was great! It seemed very logical.  In retrospect, I believe it was that moment that started the cascading ripple of the domino's falling. You see vacant land usually gets hit first. A call after the holidays in January 2006, revealed a going price of $25k.   I didn't think anything of it.  Contemplated selling it and pulled back -deciding that in another 1-2 years I could probably get back towards its peak price.   I put the Lehigh Acres property file away.
Personally I didn't give it much thought till the Fall of 2007, when it became apparent that the Charlotte, NC real estate markets were beginning to feel the ripples of the national crisis.   You see by this time, The rampant unchecked growth in sub-prime lending and pie in the sky development caused the financial markets to take notice.  The financial models of 'everyone deserved their own home' and the 'checks & balances' that thwarted greed were apparently broken.  That is when I reflected on our little single family lot in Lehigh Acres.
You see -I am an advocate for always analyzing our failures. Whether it be the approval of a dead beat tenant or the loss on a rehab to re-sell retail project, we learn by reviewing our mistakes. Care to guess what I could get for that lot today?  Maybe $3-5k. Where did I go wrong? ACTION. You know that little word you hear everyone preach.   All I had to do was initial some 3-4 pages, sign my name,  punch in 11 numbers in the fax machine, and press 'send'.   Crazy huh?
Learn from your mistakes.  Don't hide them -share and learn from one another.
So if anyone's interested,  I've got a great piece of swampland for sale.   Be careful when anyone tries to sell you that bridge!