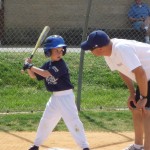 Our summer is slowly coming to an end and it's becoming readily apparent that we are facing a very strong dichotomy in the currents of real estate investing.    There is a lot of fear, pessimism,  and frustration.   While on the flip side, I'm seeing another group that is out there in full force with determination, resolve, and excitement towards the opportunities that abound.  The dynamics are changing and require a different mindset to creating wealth in real estate. I urge you to take off the blinder, strengthen your positions, and prepare to move forward.
First of all, one needs to make sure they are in a position to play offense in the world of real estate.  Are you neglecting current investments?  Do you have vacancies, some negative cash-flow, or nonpaying tenants. These might be signs your allowing fear to take grip and cause hesitation. It is this hesitation that will sink your investments and ultimately further continue the slowing of the growth one seeks.   It's imperative to take action. Outline your inflows & outflows, seek guidance, outline a plan of action, and move.   If your income (whether it be from personal and/or investment/business) is overwhelmed, you may need to consider reading (by clinking on the title): "Reverse Growth Mode…".
Are you a first time or relatively new investor?  Do you have less then 3 traditional home loans?  Yes?  Really consider just making one or two good purchases over the next 1-2 years. Read my article (by clicking on it):"A Way To Wealth With Rentals". If you have the ability to obtain 20-30 year fixed rate financing (whether it be with bank or private financing), you've got the ability buy at the best of pricing.
Folks if you cannot get tradition financing, I still want you to click on "A Way To Wealth With Rentals". Why? Please read it slowly -perhaps even print it out and read.  You see this is a classic slow-growth wealth creation story that is really simple.  Read it.  Think about it.  How can just one rental paid off in 15, 20, or 30 years affect you?  What if you added 1 rental a year for 10 years? Think you can do that?  I know you can if you want it.
So you ask: "Where do I find owner or private money financing?"
Here are just a few thoughts.  The greatest odds of finding property with financing is from existing long-term landlords, or even hard/private money lenders. These are investors that have property in inventory right?  Assuming they have been in the real estate business for awhile, it is safe to say they understanding the concepts of creative financing and do not fear it.   Sure you may pay a bit more for the property (versus someone with cash or bank financing); however, one has the ability to lock up a property. Did you really hear what I said there? You see when one buys a property, one can buy right based on price, terms (financing), or a combination of the two. Heck as a Hard Money Lender, I have unfortunately had to take back property over the past two years.   Most of the time,  I sell the rental (type) properties to investors with financing.    So talk to your long-term landlords and any lenders you know in town.   Odds are they have a property or three that you maybe able to agree on a win/win transaction.  Read my article:  "Owner Financing is Out There".
So what am I seeing in this Dichotomy I mention? I am seeing success and failure. The game in rentals is totally different then the wholesale and retailing markets.   You've got to identify what tools, investment models, and mind-frames, work for each.   Don't fight trends.   There is opportunity in all markets right now! Take action  Re-read my slow growth rental thoughts above.   Without action, you more than likely will be surfing the web some 2, 3, 5, 10 years down the road wishing/dreaming/wondering if only I had bought one.   You'll never know unless you open that door.  Yes it's scary; however, if taken with education and discipline –I believe you'll find that your setting yourself up for a great time to ride the next 20 year real estate cycle with the wind at your back.
August 8th, 2010